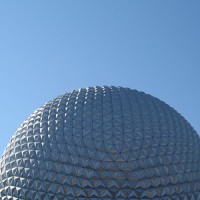 Big. Really freakin' big.
To understand just how big Disney World is, you have to know exactly what makes it up.  The Walt Disney World Resort in Florida consists of four theme parks, two water parks, five golf courses, an entertainment complex, 24 Disney-owned resort hotels and 9 non-Disney hotels. And that's just the portions of the vast property that have been developed.
In total, Walt Disney World sits on a 47 square mile plot of land in Lake Buena Vista, Florida, just outside of Orlando. In comparison, Manhattan is only 34 square miles. When your vehicle crosses under the Welcome to Walt Disney World archway, you may still have up to a 20 minute drive before reaching its premiere theme park, the Magic Kingdom.
Walt Disney conceived Walt Disney World in the early 60's after the success of Disneyland in California became truly apparent. Disneyland is built on a small plot of land totaling 510 acres in its current state, surrounded by city development on all sides. Disneyland's success brought piggybacking businesses that snapped up land all around it, making it landlocked and forcing Disney's guests to pass them by on their way in or out.
At its current size, you could fit 59 Disneylands into the borders of Walt Disney World.
Walt was determined to not let that happen again, and when Disneyland East (soon renamed Disney World) was in the early planning stages, a location was chosen that would allow as much land as they could buy. The swamps of Central Florida that make up what is now Disney World were purchased under pseudonyms and dummy corporations until Disney revealed its plans in 1965.
Get More Ninja Tips!

Don't miss a minute of the Disney magic on your next trip. Get instant access to more insider strategies right now!
Walt Disney World is big enough that its overseen by its own local government, the Reedy Creek Improvement District. Disney is the only company in America to enjoy such a privilege.
Walt's original plan was for the Magic Kingdom theme park to support the construction of an entirely futuristic city – what he called Experimental Prototype Community of Tomorrow, or Epcot. After his untimely death in 1966, his vision was scaled down and transformed into a theme park built on the same concepts. Epcot Center opened in 1982 without the revolutionary city concepts Walt proposed. Disney did eventually develop a town on their Florida property – the town of Celebration opened in 1996 with a distinctly unfuturistic theme, and has since been spun off into its own independent entity. To date, no city has employed the efficient and futuristic ideas contained in the original plans for Epcot.
Disney focused on growing Walt Disney World into a formidable vacation spot, eventually becoming the best known and most popular destination in the world. In 2011, over 17 million people visited the Magic Kingdom alone. Millions more added on visits to Epcot, Disney's Hollywood Studios and Disney's Animal Kingdom to complete their vacation..
The resort is also home to one the world's largest transportation systems with monorails, boats and a humongous fleet of buses.
If you're thinking about visiting Walt Disney World, it's huge size can be daunting. Where do you stay? Can you afford it? How long should you visit for? Is it really easier to stay with Disney or can you have just as much fun staying off-property? There's lots to think about, and lots more to do at as huge a place as Walt Disney World.