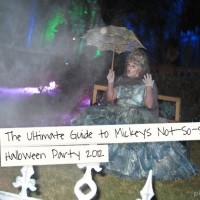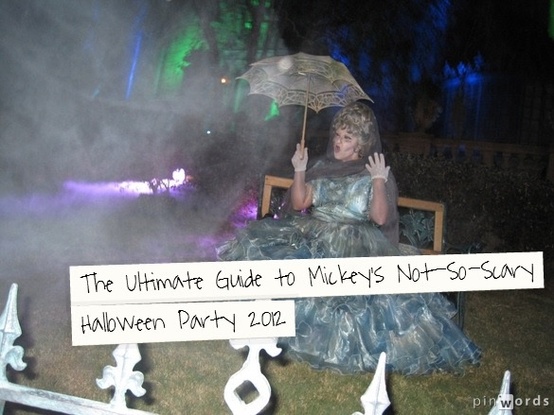 Boo to you!
It's that time of year again, and tonight was the first Mickey's Not-So-Scary Halloween Party of the 2013 season. The Party is a specially ticketed event that takes place on several nights from mid-September to early November, and provides several exclusive entertainment offerings just for party guests – plus all the candy you can handle!
Here's what you need to know:
Mickey's Not-So-Scary Halloween Party tickets are cheaper if you buy them in advance from disneyworld.com. You can also download the party map and times guide here.
Your Mickey's Not-So-Scary Halloween Party ticket grants you entry to the Magic Kingdom beginning at 4pm on the day of your party, even though the party runs from 7pm – 12am. Take advantage of the early entry.
Disney will provide you with trick-or-treat bags when you enter the gates, but feel free to bring your own.
Mickey's Not-So-Scary Halloween Party is the only time adults are allowed to enter a Walt Disney World theme park in costume, so pick a good one and have a blast! You won't feel weird – plenty of adults dress up in some pretty creative duds for the event. No masks, fake weapons or scandalous attire is permitted, so plan accordingly. Kids dress up too!
While several rides are open during the party, they should take the backseat to the other festivities. After all, you're paying to see things that don't happen during the day, and you can always ride Splash Mountain. During most parties, ride lines are very short, so definitely squeeze some in!
Choose which characters you know your family wants to see before you arrive. Unless you have no other chance, I don't recommend you spend party time seeing characters who are readily available during the day as character lines can get quite long.
If the meeting Jack Skellington or the Seven Dwarfs are a must for your family, arrive early and get in line at 5:30pm (no later than 6pm) to ensure you'll be among the first to see them when they show up at 7pm – otherwise you will miss valuable party time waiting in line for them.
If you or your child can't eat candy or have dietary restrictions, you can exchange your trick-or-treat obtained goodies at City Hall for whatever you require (sugar free, apple slices, etc.).
An exclusive spell card has been created for the Sorcerers of the Magic Kingdom game. You can pick it up beginning at 7pm at the Main Street Fire Station or the Sorcerers Outpost in Liberty Square. The spell is called "The Haunted Mansion's Happy Haunting Grounds".
Exclusive Party Merchandise (t-shirts and pins) is available at the Emporium (Main Street USA), Frontier Trading Post (pins only, Frontierland), Heritage House (Liberty Square), Big Top Souvenirs (Fantasyland) and Ursa's Major Minor Cart (Tomorrowland).
SPECIAL ENTERTAINMENT
These are all not to be missed! The parade is the best Disney offers, as is the fireworks show. We like to watch the fireworks where Main Street and Central Plaza (the Hub) meet, across the street from Casey Corner. As soon as the fireworks end, we plop down on the curb and claim our spot for the 10:30pm parade.
Mickey's Boo to You! Halloween Parade
Parade route begins by Splash Mountain and ends in Town Square
8:15pm and 10:30pm
Prior to the parade, the Headless Horseman gallops down the route (so cool!). The parade features all the characters you could hope for (including some really rare ones like Captain Barbossa), plus the famous Haunted Mansion gravediggers. Disney tells everyone that the second parade is less crowded, and thanks to them telling everyone that, it's now just as crowded as the first at most parties. Plan on grabbing your spot early, regardless of which performance you see.
HalloWishes
The skies above Cinderella Castle
9:30pm
The Haunted Mansion's Ghost Host, um, hosts a villain party in the sky with a rockin' soundtrack and some incredible pyrotechnic effects. Make sure you're watching from in front of the Castle to get all the show's special effects.
Villains' Dance Mix & Mingle
Cinderella Castle Forecourt Stage
7:45pm, 8:50pm, 10:05pm and 11:15 pm
This short dance show features the Disney Villain stars with an impossibly catchy theme song. Keep an eye on Maleficent – her hip-hop skills are hilarious to watch. After the show, the villains descend from the stage for a quick meet-n-greet with the audience.
Celebrate the Magic
Cinderella Castle
9:15pm, just prior to HalloWishes
This dazzling projection show features a special villains segment just for the Halloween season.
Haunted Mansion Ghosts
Throughout the party, the Haunted Mansion cast members get into the act with spooky makeup and cobwebs. A hilarious female ghost sits on a bench overlooking the queue and heckles passersby – be sure to stop and talk to her, she's a riot.
CHARACTERS
So where can you meet the characters during this year's party? I've got them all listed below. Characters marked with an asterisk (*) are not available outside of the party (such as the Seven Dwarfs), or are in a costume not available outside the party (such as Mickey and Minnie's Halloween costumes).
MAIN STREET USA
Mickey* and Minnie* are in special Halloween attire at the Town Square Theater – depending on when you see them, they will either be in purple-toned vampire/witch outfits, or a pirate/princess get-up.
Jack Skellington* and Sally* greet guests in Town Square next to City Hall. On the first party night, waits for Jack & Sally reached as high as 3 hours, so get in line before the party starts or come right after a parade when crowds will be low. No autographs, photos only.
The Tremaines (Lady Tremaine, Anastasia and Drizella from Cinderella) roam near the flagpole in Town Square.
Jafar* is stationed at the Town Square Theater exit.
Lotso* meets near the Town Square Theater Fastpass machines.
When facing the Castle, the following villains are available immediately following Villains' Dance Mix & Mingle performances (left to right facing the stage, no autographs, photos only):
Maleficent*
Dr. Facilier*
The Evil Queen*
Captain Hook
Cruella DeVil*
The Queen of Hearts*
Frollo* mingles in the crowd, as no one seems to know who he is. Ask a character host before the show starts where you should watch from to be first in line for the villain you want to catch. If there's more than one villain listed above (not counting Frollo) that you want to meet, you may need to return for multiple performances as the lines grow instantaneously when the villains leave the stage and descend to the crowd.
ADVENTURELAND
Jack Sparrow* is available across Pirates of the Caribbean on his stage.
Tarzan*, Jane* and Terk* rotate on the Adventureland Verandah (Terk is ever-present, Jane & Tarzan bump each other every half hour).
Tinker Bell and one or two of her fairy friends are located in Tinker Bell's Magical Nook, to the left of Adventureland Verandah.
Aladdin and Abu* rotate with Jasmine and Genie near Magic Carpets of Aladdin.
FRONTIERLAND
Woody, Jessie and Bullseye* hang out at their dance party in the Diamond Horseshoe. No autographs or posed photos, characters mingle as they dance
LIBERTY SQUARE
Tiana and Naveen meet in the Enchanted Glen behind Ye Olde Christmas Shop, which is their regular location.
FANTASYLAND
Ariel is available in her Grotto next to her attraction.
Belle takes photos with guests after her storytelling performances at Enchanted Tales with Belle. No autographs, photos only.
Princess Fairytale Hall (behind Cinderella Castle) has two queues – one for Cinderella & Prince Charming* and Princess Aurora & Prince Phillip*, the other for Rapunzel & Flynn Rider* and Snow White & her Prince*. This is the same lineup during the day with the addition of Princes, who only appear during the parties.
Gaston poses outside his Tavern.
The Seven Dwarfs* will meet along the Castle walls near the Village Haus. No autographs, photos only
Alice and the Mad Hatter greet next to the Mad Tea Party.
Merida is in her regular location at Fairytale Gardens, to the right of the Castle.
Donald* (pumpkin costume) and Daisy* (princess dress) meet at the entrance to Storybook Circus.
Pooh* (bumblebee costume), Piglet* (butterfly costume), Tigger* (pirate costume) and Eeyore* (clown costume) hang out next to The Many Adventures of Winnie the Pooh in their regular location.
TOMORROWLAND
Buzz Lightyear is next to his ride in his regular location.
Mike Wazowski, Sulley, Boo*, Needleman* and George Sanderson* boogie at Rockettower Plaza Stage Dance Party, between Space Mountain and Tomorrowland Speedway. No autographs or posed photos, characters mingle as they dance
TRICK OR TREAT STATIONS
ADVENTURELAND
Walt Disney's Enchanted Tiki Room
Pirates of the Caribbean queue
LIBERTY SQUARE
Liberty Square Riverboat dock
FRONTIERLAND
Brer Rabbit's Laughing Place candy trail at the Splash Mountain queue
FANTASYLAND
Peter Pan's Flight queue
Pinocchio Village Haus
Storybook Circus, near Pete's Silly Sideshow
Alice's Curious Candy Trail entrance next to the Barnstormer
TOMORROWLAND
Tomorrowland Speedway
Space Mountain
Stitch's Great Escape
RIDES & ATTRACTIONS
Magic Carpets of Aladdin
Pirates of the Caribbean
Swiss Family Treehouse
Splash Mountain
Big Thunder Mountain Railroad
Country Bear Jamboree
Haunted Mansion
it's a small world
Peter Pan's Flight
Mickey's PhilharMagic
The Many Adventures of Winnie the Pooh
Dumbo the Flying Elephant
Prince Charming Regal Carrousel
The Barnstormer
Mad Tea Party
Under the Sea ~ Journey of the Little Mermaid
Enchanted Tales with Belle
Tomorrowland Speedway
Tomorrowland Transit Authority PeopleMover
Astro Orbiter
Buzz Lightyear Space Ranger Spin
Stitch's Great Escape
Monsters, Inc. Laugh Floor
Are you going to this year's party? Let me know in the comments what night you're going and who you're dressing up as!