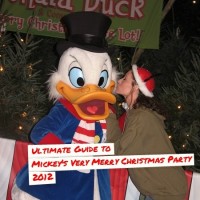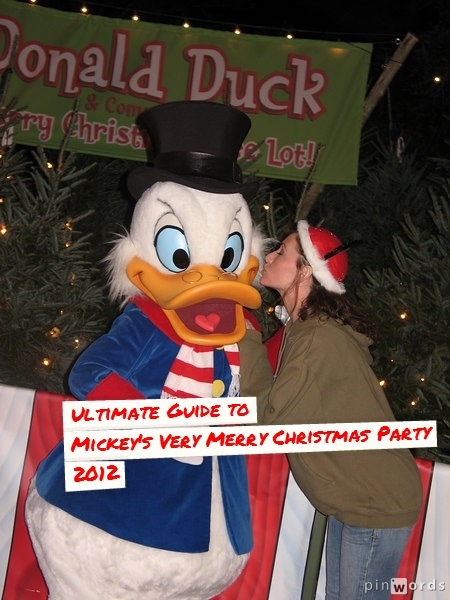 Let's have a joyous celebration!
It's the most wonderful time of the year, and that means that Mickey's Very Merry Christmas Party has kicked off for the 2012 season. The Party is a specially ticketed event that takes place on several nights from November 9 – December 21, and provides several exclusive entertainment offerings just for party guests – plus all the cocoa and cookies you can handle!
Here's what you need to know:
Mickey's Very Merry Christmas Party tickets are cheaper if you buy them in advance from disneyworld.com. You can also download the party map and times guide here.
Your Mickey's Very Merry Christmas Party ticket grants you entry to the Magic Kingdom beginning at 4pm on the day of your party, even though the party runs from 7pm – 12am. Take advantage of the early entry!
While several rides are open during the party, they should take the backseat to the other festivities. After all, you're paying to see things that don't happen during the day, and you can always ride Splash Mountain. During most parties, ride lines are very short, so definitely squeeze a few in!
Choose which characters you know your family wants to see before you arrive. Unless you have no other chance, I don't recommend you spend party time seeing characters who are readily available during the day as character lines can get quite long.
If the Seven Dwarfs are a must for your family, arrive early and get in line at 5:30pm (no later than 6pm) to ensure you'll be among the first to see them when they show up at 7pm. Otherwise, you'll waste a lot of party time waiting in line for these very popular characters.
Cinderella's Holiday Wish lighting ceremony occurs nightly at 6:15pm. If you're attending the party, be sure to see this very cute show where the Fairy Godmother helps Cinderella's wish come true by covering the Castle in glittering ice. Mickey and friends tag along for the breathtaking lighting moment on the Castle Forecourt Stage.
If you or your child can't eat cookies or have dietary restrictions, you can exchange your trick-or-treat obtained goodies at City Hall for whatever you require (sugar free, apple slices, etc.).
A party-exclusive Sorcerers of the Magic Kingdom card is available at the Main Street Fire Station, limited to 1 per guest.
Exclusive Party Merchandise (t-shirts and pins) are available at the Emporium (Main Street USA), Uptown Jewelers (pins only, Main Street USA), Plaza del Sol Caribe Bazaar (Adventureland), Frontier Trading Post (pins only, Frontierland), Heritage House (Liberty Square), Fantasy Faire (Fantasyland) and Mickey's Star Traders (Tomorrowland).
SPECIAL ENTERTAINMENT
The merry entertainment is a big part of the party, and won't be available for regular park guests until December 22. The parade is one of the best Disney offers, as is the fireworks show. We like to watch the fireworks where Main Street and Central Plaza (the Hub) meet, across the street from Casey Corner. As soon as the fireworks end, we plop down on the curb and claim our spot for the 10:30pm parade.
Mickey's Once Upon A Christmastime Parade
Parade route begins by Splash Mountain and ends in Town Square
8:15pm and 10:30pm
This recently refreshed procession features the whole Disney gang dancing and frolicking to Christmas music. Reindeer, snowmen, gingerbread men and even Santa himself join Mickey, the Disney princesses and countless more friends for a holiday spectacular.
Holiday Wishes
The skies above Cinderella Castle
9:30pm
Cinderella Castle becomes a ginormous glittering Christmas tree during this gorgeous pyrotechnic display set to a sentimental holiday soundtrack.
Celebrate the Season
Cinderella Castle Forecourt Stage
7:45pm, 10:05pm and 11:20 pm
Mickey and the gang are all here for a medley of Christmas hits, with a huge cast of amazing dancers. Don't miss this one – it's charming.
A Totally Tomorrowland Christmas
Rockettower Plaza Stage
7:45pm, 10:05pm and 11:20 pm
A totally perky Disney Channel-esque singer takes the stage with Buzz Lightyear, Mike Wazowski and Stitch for a show that is completely inexplicable. Skip this one.
CHARACTERS
So where can you meet the characters during this year's party? I've got them all listed below. Characters marked with an asterisk (*) are not available outside of the party (such as the Seven Dwarfs), or are in a costume not available outside the party.
MAIN STREET USA
Rapunzel and Flynn Rider*, Princess Aurora and Prince Philip* and Snow White and her Prince* are in Town Square Theater's Princess Room.
Mickey* and Minnie* are in special Christmas attire at the Town Square Theater.
Santa Claus is at the flag pole in the center of Town Square.
ADVENTURELAND
Jack Sparrow* is available near Pirates of the Caribbean.
Tinker Bell and Periwinkle are located in Tinker Bell's Magical Nook, to the left of Adventureland Verandah.
Aladdin and Abu* rotate with Jasmine and Genie near Magic Carpets of Aladdin.
FRONTIERLAND
The Seven Dwarfs* hold court at the Splash Mountain exit. No autographs, photos only
Woody, Jessie and Bullseye* hang out at their dance party in the Diamond Horseshoe. No autographs or posed photos, characters mingle as they dance
The Country Bears* wander about outside the Country Bear Jamboree.
LIBERTY SQUARE
Tiana and Naveen meet in the Enchanted Glen behind Ye Olde Christmas Shop, which is their regular location.
Duffy the Disney Bear wears his Santa outfit at the Liberty Belle Riverboat dock.
FANTASYLAND
Cinderella and Prince Charming*, Lady Tremaine, Anastasia and Drizella pose for photos in front of the Castle walls.
Ariel is available in her regular daytime spot, Ariel's Grotto, to the right of her new ride.
Belle is performing in her new attraction, Enchanted Tales with Belle. Belle does not sign autographs at this location, and photos are only taken with children who participate in her performance (all children are welcome to participate).
Gaston poses for photos outside his Tavern in Belle's Village.
Merida is in her regular location at Fairytale Gardens, to the right of the Castle.
Peter Pan and Wendy* hang out next to Prince Charming Regal Carrousel.
Scrooge McDuck* meets in the Castle courtyard.
Pooh, Piglet, Tigger and Eeyore hang out next to The Many Adventures of Winnie the Pooh in their regular daytime location.
Goofy, Donald, Daisy and Minnie are available in Pete's Silly Sideshow, across from Dumbo. This location is open during regular park hours as well, and features the gang in circus performer duds (Goofy is a daredevil, Minnie a dog trainer, Daisy a fortune teller and Donald a snake charmer). Note there are 2 queues here – one for Goofy and Donald, the other for Daisy and Minnie.
TOMORROWLAND
Phineas & Ferb are next to Buzz Lightyear Space Ranger Spin.
Chip, Dale, Goofy and Pluto boogie at Cosmic Ray's Starlight Cafe character dance party. No autographs or posed photos, characters mingle as they dance
COCOA & COOKIE STATIONS
MAIN STREET USA
Crystal Palace (9pm  – 12am only)
ADVENTURELAND
Sunshine Tree Terrace
LIBERTY SQUARE
Columbia Harbour House
FANTASYLAND
Pinocchio Village Haus
Fantasyland Railroad Station
TOMORROWLAND
Cosmic Ray's Starlight Cafe (8pm – 12am only)
Tomorrowland Terrace (open until 12:30am)
RIDES
Magic Carpets of Aladdin
Pirates of the Caribbean
Swiss Family Treehouse
Splash Mountain
Big Thunder Mountain Railroad
Haunted Mansion
Under the Sea ~ Journey of the Little Mermaid
it's a small world
Peter Pan's Flight
Mickey's PhilharMagic
The Many Adventures of Winnie the Pooh
Dumbo the Flying Elephant
Prince Charming Regal Carrousel
The Barnstormer
Mad Tea Party
Tomorrowland Speedway
Space Mountain
Tomorrowland Transit Authority PeopleMover
Astro Orbiter
Buzz Lightyear Space Ranger Spin
Stitch's Great Escape
Monsters, Inc. Laugh Floor
Are you going to this year's party? It's a great Christmas tradition. Nab some Santa Mickey ears and get a family photo in front of the Castle all lit up!
Tags: mickey's very merry christmas party 2012, mvmcp, mvmcp guide