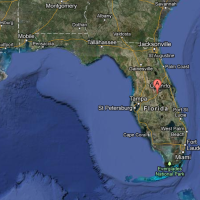 To be precise, Disney World is located in Lake Buena Vista, Florida, just a few minutes outside of Orlando. The property itself is 47 square miles, which makes Walt Disney World bigger than the island of Manhattan…by 13 square miles.
So now that you know where it is, the next question is how do we get there? The vast majority of Disney guests arrive by plane at Orlando International Airport, which is just over 20 miles away. Disney resort guests who have booked a stay at a Disney hotel are offered free transportation via Disney's Magical Express, but anyone can rent a car and drive themselves. If you're straight up fancy, you can even hire a limo.
Coming in by car is another matter. Most motorists arrive in Florida from the north via I-75, eventually finding their way to I-4, the diagonal freeway that offers direct access to Disney World. If they head straight to the Magic Kingdom, they'll park in the largest surface parking lot in the world. After all, over 17 million people visit Walt Disney World's Magic Kingdom every year.
Besides Walt Disney World, there are five other Disney theme park resorts located around the world: Disneyland Resort in Anaheim, California, Tokyo Disney Resort in Urayasu, Japan, Disneyland Resort Paris in Chessy, France, Hong Kong Disneyland on Lantau Island, Hong Kong, and the new Shanghai Disney Resort opening in late 2015 outside Shanghai, China.